Desk of our Priest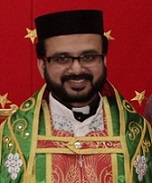 Dear St George Family,

Greetings to You all in the Name of Our Lord Jesus Christ,
The nine proclamation of Our Lord Jesus through St. Matthew's Gospel (Matt.5: 3-11) contain both values for living and promises of blessing. Christianity is a way of life. It is as much about what and who we are as about what we say or believe. As all we know the scriptures are not primarily books of doctrines but rather it is the proclamation of how the revelation of God has made an impact on and shaped the lives of those who have heard its message.
We live in a drastically changing world. Increasingly, our culture is where people are less interested in religious activity than in 'spirituality', and more interested in 'resources for living' than in doctrines or creeds. Unfortunately we can see two types of churches in the world. One is the spiritual based church and the second one is "Club" based church. Now a days, most people want to go to the "Club" church. People want to convert the traditional churches to the Club churches. Sundays have turned into a socialization day instead of commemorating the Risen Jesus.
Our lifestyle should change. We should live in a way that Our Lord Jesus showed to us, then his Apostles, and the saints who gave their lives for our Jesus Christ the savior. The church members who are the Body parts of the Holy Church have a responsibility live with a prayerful life and lead a holy life with hope and faith in our Savior Jesus. The verses in this chapter are giving a meaningful message to the believers of true believers.
By His worldly life He showed us how we can please and live for God without any sin and lead a holy life. By the sin of Adam and Eve we lost Paradise. Jesus came to this world and lived with us and crucified himself for us to grant salvation. He opened the door to Paradise. He gave His Blood and Body for us to drink and eat to get the eternal life. Jesus is calling each of us to enter through this door in order to step foot in the kingdom of heaven. He pronounced that He is the way and truth, and without Him no one can enter in the Kingdom of Heaven. With purity of mind and spiritual life, Holy Spirit help us to lead a true meaningful Christin life. As Christians we are encouraged to self-examine our lifestyle in the light of Jesus' teaching and to live out these kingdom values – now.
May God Bless You All.

In His Service
Fr. Liju Paul
"For even The Son of Man came not to be served, but to serve and give his life a ransom in the place of the many." St. Mark 10:45