Archbishop, His Eminence Mor Titus Yeldho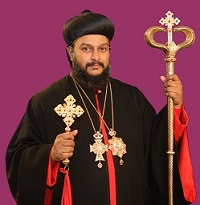 | | |
| --- | --- |
| Born On: | July 22, 1970 |
| Family Name: | Pathickal Family of Perumbavoor (Ankamaly Diocese), Kerala, India |
| Education: | Bachelors and Masters in Mathematics from the U.C. College, Alwaye,Kerala, India |
| | Bachelors in Education (B.Ed) from Mahatma Gandhi University, Kerala, India |
| Theological Studies: | Theological Seminary at Damascus, Syria |
| | Malankara Syrian Orthodox Theological Seminary, Udaygiri, Kerala, India |
| | Master's of Divinity from the St. Vladmir's Orthodox Theological Seminary, New York, USA |
| Deacon: | Ordained as Reader (Qoruyo) on October 28, 1982 by the late His Grace Mor Athanasius Paulose (Kadavil) |
| | Ordained as Sub-Deacon (Apodyaqno) on March 20, 1998 by His Holiness Moran Mor Ignatius Zakka I Iwas |
| Ramban (Monk): | Ordained on September 26, 1998 by His Holiness Moran Mor Ignatius Zakka I Iwas |
| Kassiso (Priest): | Ordained on September 5, 1999 by His Holiness Moran Mor Ignatius Zakka I Iwas |
| Metropolitan (Bishop): | Consecrated on January 4, 2004 by His Holiness Moran Mor Ignatius Zakka I Iwas as the Archbishop and Patriarchal Vicar of the Malankara Archdiocese of the Syrian Orthodox Church in North America |
His Holiness the Patriarch of Antioch and All The East, Moran Mor Ignatius Zakka I Iwas consecrated Very Rev. Ramban Yeldho Pathickal as the Archbishop and Patriarchal Vicar of the Malankara Archdiocese of the Syrian Orthodox Church in North America on January 4, 2004 at the solemn function held at the Monastery of St. Aphrem the Syrian, at Ma'arrat Seydnaya, Damascus, Syria. The new Metropolitan was given the Episcopal name 'TITUS' during the consecration ceremony.
Born in 1970 to Pathickal P. M. Kuriakose and Sosamma, His Eminence belongs to the Perumbavoor Bethel Suloko Cathedral of the Ankamaly Diocese in India. His primary education was at the Asram High School, Perumbavoor. He studied at the Union Christian College in Alwaye, Kerala for B. Sc and M. Sc in Mathematics. Later he acquired his B. Ed degree from the Mahatma Gandhi University, Kerala, India.
His Eminence Mor Titus Yeldho was ordained Deacon (Qoruyo) at the age of 12, on October 28, 1982 by Mor Athanasius Paulose (Kadavil), the late Metropolitan for the Evangelical Association of the East. In 1997 he was invited to the St. Ephrem Patriarchal Seminary in Damascus, Syria. On September 26, 1998 he was ordained Ramban by His Holiness the Patriarch and on September 5, 1999 ordained as Priest. His Eminence had his theological education from the Patriarchal Seminary at Damascus and the Malankara Syrian Orthodox Theological Seminary at Udayagiri, India. During this period he had the opportunity to stay in the Syrian Orthodox Monasteries of Jerusalem, Turkey, Holland, Germany and Switzerland. After the demise of Mor Gregorios Geevarghese (Perumpally) in 1999, he was appointed as the Administrator of the Perumpally St. George Simhasana Church and its institutions. From 1995 to 2001, he was actively involved in YMCA organization as its State Vice- Chairman and also as its National Executive Board Member.
His Eminence was later deputed to New York and was serving different churches of the Malankara Archdiocese of North America till the end of 2003. He also completed his Master of Divinity degree in 2003 from the St. Vladimir's Orthodox Theological Seminary, New York. On January 4, 2004 His Eminence was consecrated as the Archbishop and Patriarchal Vicar of the Malankara Archdiocese in North America. His Eminence is currently pursuing his Doctoral program in US.His Eminence is the only prelate from Malankara to receive five ordinations (Sub-deacon, Full Deacon, Ramban, Priest & Metropolitan) from the Supreme Head of our Church, the Patriarch His Holiness Moran Mor Ignatius Zakka I Iwas.
Dayro d-Mor Ephrem
Malankara Archdiocesan Headquarters
270 Whippany Road
Whippany, New Jersey 07981 USA
Phone: 845-364-6003
Email: BishopTitus@gmail.com